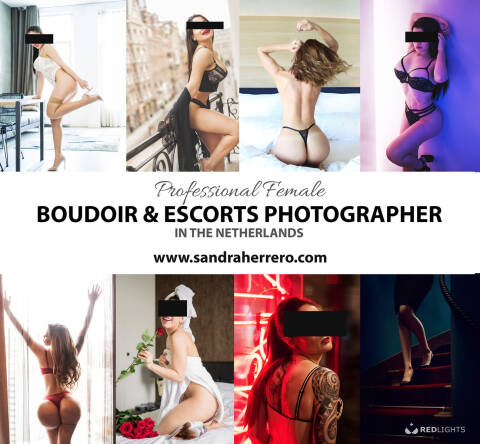 FEMALE PHOTOGRAPHER & VIDEO FOR ESCORTS - ESCORTS FOTOGRAAF
Jobs Nederland
FEMALE PHOTOGRAPHER & VIDEO FOR ESCORTS - ESCORTS FOTOGRAAF
Jobs Nederland
Hola, hello, hoi!
I'm Sandra a Spanish professional photographer based in Amsterdam, The Netherlands. I have 6 years of experience as photographer. In my Boudoir & Escort Photography my main goal is to make you feel comfortable and create unique photos that will make you be chosen from your competence.
I can speak fluently Spanish, English, French and dutch is in process!
Have you noticed a drop in business? Have you changed your look? Lost a few pounds lately? It may be time to update your portfolio. Your look, your style. Are you the girl next door? Ultra chic? The Vixen or Dominatrix? Your photos are tailor designed for maximum results. Get better clients and increase your earnings with a good portfolio! Your image is important. It's a competitive online world, and I'm here to help you shine.
My basic package starts from 350€ (vat excluded) and I offer different packages in my web page.I don't have a studio so for the photoshoot you must book a hotel, or we can take the photos at your place.
I always keep my clients privacy if they wish it, but I have some examples of my portfolio in my web page. Also a blog with tips for your photoshoot!
https://sandraherrero.com/boudoir-photography-netherlands/
Please feel free to send me a message if you are interested in arrange a photoshoot asap!
hellosandraherrero@gmail.com
Best regards,
Sandra
Maandag:

09:00 tot 17:00

Dinsdag:

09:00 tot 17:00

Woensdag:

09:00 tot 17:00

Donderdag:

09:00 tot 17:00

Vrijdag:

09:00 tot 17:00

Zaterdag:

-

Zondag:

-