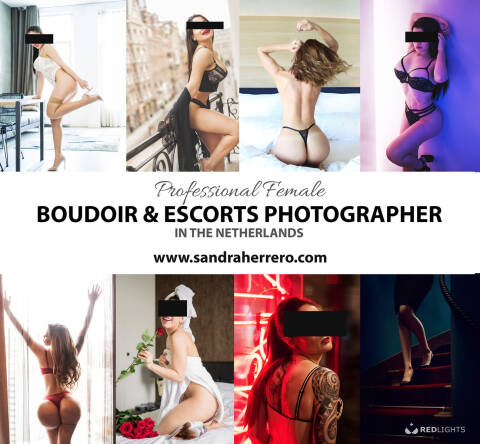 PROFESSIONAL FEMALE PHOTOGRAPHER & VIDEO FOR ESCORTS/ FOTOGRAAF
Jobs Nederland
PROFESSIONAL FEMALE PHOTOGRAPHER & VIDEO FOR ESCORTS/ FOTOGRAAF
Jobs Nederland
Hi there!
I'm Sandra a Spanish professional photographer based in Amsterdam, The Netherlands. I have 5 years of experience as photographer. In my Boudoir & Escort Photography my main goal is to make you feel comfortable and create unique photos that will make you be chosen from your competence.
In the last year I have worked for more than 80 escorts and sex cam girls who enjoyed their photoshoot and photos! I'm available as photographer in The Netherlands, other countries can be requested by email.
I can speak fluently Spanish, English, French and dutch is in process!
If you are looking for a classy, elegant and fresh photography don't hesitate in send me a message. I will be happy to update your portfolio and create good photography content! My photoshoots starts from 350€ (vat excluded) and I offer different packages in my web page. I also offer a Photoshoot & Video for a total price of 550€. The video shows you in a classy and mysterious way to attract more quality clients! For Escorts Agencies I offer discounts depending the number of the girls interested in be photographed. If you want to team up with a friend I also offer discounts! I don't have a studio so for the photoshoot you must book a hotel, or we can take the photos at your place.
I always keep my clients privacy if they wish it, but I have some examples of my portfolio in my web page. Also a blog with tips for your photoshoot!
http://www.sandraherrero.com/boudoir-photoshoot-amsterdam
Please feel free to send me a message if you are interested in arrange a photoshoot
hellosandraherrero@gmail.com
Best regards,
Sandra
Maandag:

09:00 tot 17:00

Dinsdag:

09:00 tot 17:00

Woensdag:

09:00 tot 17:00

Donderdag:

09:00 tot 17:00

Vrijdag:

09:00 tot 17:00

Zaterdag:

-

Zondag:

-