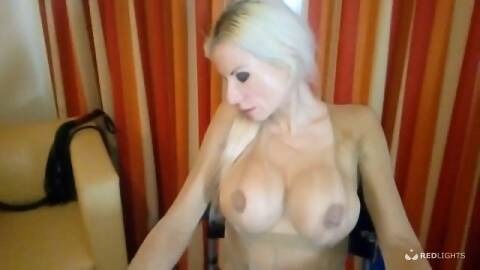 Marlinda Branco Worldwide Exxxtreme
Gepubliceerd door Marlinda Branco (36j) op zondag, 17 januari - 11:58
SKYPE AND VIDEO ON DEMAND AVAILABLE.
FREE YOUR MIND THE REST WILL FOLLOW
My name is Marlinda Branco. I am from Amsterdam and unique in that I am.. exxxtreme. I am a tall, blond, exxxtremely well-trained, professional BDSM Goddess.., a rare, truly legitimate NO LIMIT Dominatrix & Subslut looking to bring your Softcore or Hardcore Fantasies to life. Find reviews on my site.
I am an EXXXTREME MISTRESS/PORNSTAR. I do not offer 30 minutes or 1 hour services, a session starts with 2 hours. FOR INFO, DETAILS & BOOKING MESSAGE me at my E-mail. Info and bookings only through E-mail.
DO NOT CONTACT ME IF YOU ARE A WANNABEE AND BRAINLESS TIMEWASTER OR A CHEAP FUCKTARD I HAVE NO INTEREST IN YOU AT ALL. Booking always 3-7 or more days in advance.
I am a Goddess Pornstar Exxxtreme of the highest caliber and quality. I service my new clients as well as my established clientele from all over the world.
Be aware that I am a high end legitimate Exxxtreme Pornstar. Me and my services do NOT come cheap.
I am unique in that I am an Exxxtreme, No limits Mistress / Submissive Pornstar Exxxtreme.
(I play both roles dom & Sub)
What exactly is a "No Limits" Mistress / Submissive Pornstar Exxxtreme?
A "No Limits" Mistress / Submissive Porn star Exxxtreme is a specialist that can take you to and follow you to any level you wish to go… All is good. Every one of your kinky, perverse fantasies can (and will) be realized and actualized.
However, be warned... I have absolutely no time nor interest in wannabees, time wasters nor fucktards.
So, if you want to play.... I play HARD.
I also offer custom video services and video on demand sessions.
DIRTY FILTHY EXTREME HARDCORE PORN NO LIMITS!
BOOK NOW FOR A SESSION
The correct way to address MISTRESS MARLINDA is :
"Mistress Marlinda Branco, I want to book you in ..... . Please give me your info, details, available dates and I will confirm today with my deposit ."
The incorrect way of addressing MISTRESS MARLINDA?:
When are you in.....? Or do you come to....?
Thus, my little slave pigs..., when I have been offically booked... I, Mistress Marlinda, will be there so that you may service me. Thats all there is to it .
Facefuck exxxtreme Non stop Deep throat. Ass Smoothy. Yellow Rain. Yoghurt. Watch my XXX-Rated Art videos !
Make your own video with me! BDSM, Fetish, Kinky Checklist available.
Bi-sexual Freak Bitch 4u - Footfetish - Speculum - Fullbody Latex Catsuit -Latex-nurse - Babyplays - Hard SM COCK BALL TRAINING - NEEDLE PLAYS - SOUNDS - DILATOR - Moneyslave - Exxxtreme SM - Be my Ultimate Toilet Slave Porn Bdsm & Fetish - Ass to Mouth Gagging - Anal plays with gigantic dildos and J.Lube - Fisting, Strap-on - Rimming with full tongue and wet full face - Cum in my mouth. Urosex - Sound plays - Suffocation games - Wrestling - Acupressure massage - Exxxtreme, Hardcore sex games - Humor... and much more.
I am , exxxtremely versatile and creative. I am clearly not your average pornstar. I am, without doubt, a super xxx-rated professional artist.
Many want to be me but never can be.... as there is only one Marlinda Branco Pornstar Exxxtreme. Mail for info & booking.
Accepting requests from :
Cape Town Johannesburg Dubai Kuwait Switzerland (Netherlands) Amsterdam, (All Belgium), Brussel Antwerp, (Germany) Frankfurt Stuttgart Munich Dusseldorf Berlin Hamburg. (UK), London Luxembourg, (Spain, Madrid. (USA), Florida, New York, Los Angeles, Washington State. (Canada), All Provinces. Cyprus, Greece, Malta, Moldava, Albania, Bulgar, Poland, Romania, Georgie, France,
Let me be clear. I am an international pornstar & unique Exxxtreme escort. As such, I bring all relavant equipment and tools with me during my travels.
I am not stationed or based in any particular country as I am constantly traveling all over the world to service my clients.
Having said that , I can effectively meet you anywhere in the world... , thus, if you were to give me an idea as to your schedule (the cities and countries you will be flying to over the next month), I am sure we can schedule a session within that time frame.
---
---
Profiel
Geslacht:

Vrouw

Geaardheid:

Hetero

Nationaliteit:

Nederland

Leeftijd:

36 jaar

Lengte:

180cm

Gewicht:

68kg

Haarkleur:

Blond
Kleur ogen:

Blauw

Intiem kapsel:

Geschoren

Cupmaat:

D

Tattoo(s):

Neen

Piercing(s):

Neen

Roker:

Neen
---
Locatie
Marlinda Branco ontvangt privé in Amsterdam (Noord-Holland)
---
Mogelijkheden
Massage
Body to body
Californische massage
Erotische massage
Hot stone massage
Massage
Massage met happy end (handmatig)
Massage met happy end (oraal)
Massage op massagetafel
Nuru massage
Prostaat massage
Sensuele massage
Tantra Massage
Voorspel
Anaal vingeren
Beffen
Pijpen deepthroat
Pijpen met condoom
Pijpen tot het einde
Pijpen zonder condoom
Tepelzuigen
Tongzoenen
Vingeren
Zoenen
Intiem
Anaal (Grieks)
Dildospelletjes
Double penetration
Fisting (gevend)
Fisting (ontvangen)
Gangbang
Goldenshower over mij (plasseks)
Goldenshower over u (plasseks)
Handmatig orgasme
Intiem met condoom
Klaarkomen in mond (CIM)
Klaarkomen op borsten / lichaam
Klaarkomen op gezicht
Meerdere orgasmes
Russisch (tussen de borsten)
Spaans (tussen de billen)
Fetish
Bondage (Meester(es))
Bondage (slaaf)
Facesitting
Poepseks over mij
Poepseks over u
Rimmen (gevend)
Rimmen (ontvangen)
Rollenspel
SM meester(es) hard
SM meester(es) soft
SM slavin hard
SM slavin soft
Spanking
Squirten
Strapon
Voetfetish
Andere diensten
Bezoek aan parenclub
Dinnerdate
Douchemogelijkheden
Film of foto
Overnachten
Sauna (begeleiding)
Trio (M/M/T)
Trio (M/M/V)
Trio (M/V/T)
Trio (V/V/M)
Trio (V/V/T)
Virtuele seks
Vluggertje
Zakenreis binnenland
Zakenreis buitenland
Marlinda Branco verwelkomt mensen met een beperking:
Auditieve beperking
Cognitieve beperking
Fysieke beperking
Spraakbeperking
Visuele beperking
---
E-mail
Stuur een e-mail naar Marlinda Branco via onderstaand formulier.
---
---
Contacturen
Maandag:

13:00 tot 00:00

Dinsdag:

13:00 tot 00:00

Woensdag:

13:00 tot 00:00

Donderdag:

13:00 tot 00:00

Vrijdag:

13:00 tot 00:00

Zaterdag:

13:00 tot 00:00

Zondag:

13:00 tot 00:00
Telefoon:

+31 6 25592576

Website:
---
---